Full Service Cleaning

Wall to Wall Carpet Cleaning
Upholstery Cleaning
Auto/Car Interior Cleaning
Move In / Out Cleaning
Area Rug Cleaning
Water / Fire Restoration

Air Ducts
Tile & Grout Cleaning
Burn Repair

Insurance Friendly

The Benefits of Truck Mount Carpet Cleaning

Combined cleaning methods and solutions to give you the most thorough cleaning possible

A powerful steam clean that extracts 90 - 95 percent of the administered solution. Results are fast drying time and residue free carpets that look like new again.

What this means for you is cleaner carpets with faster drying times. Soap residue left in your carpet by other carpet cleaners will allow your carpet to resoil quickly. Our method removes the soap residue they left behind and leaves you with a clean feeling carpet that really is clean!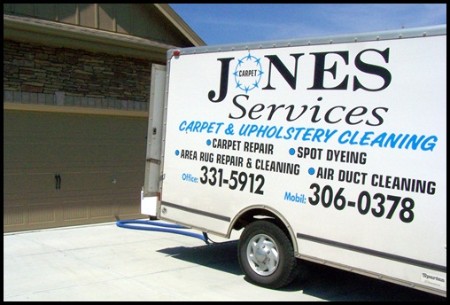 "New Customers Become Old Friends" ‎

Jones Services |
402-331-5912
Omaha, Nebraska |
402-306-0378
Camdenton, MO 65020
| Website Design by
Bk Website † Design